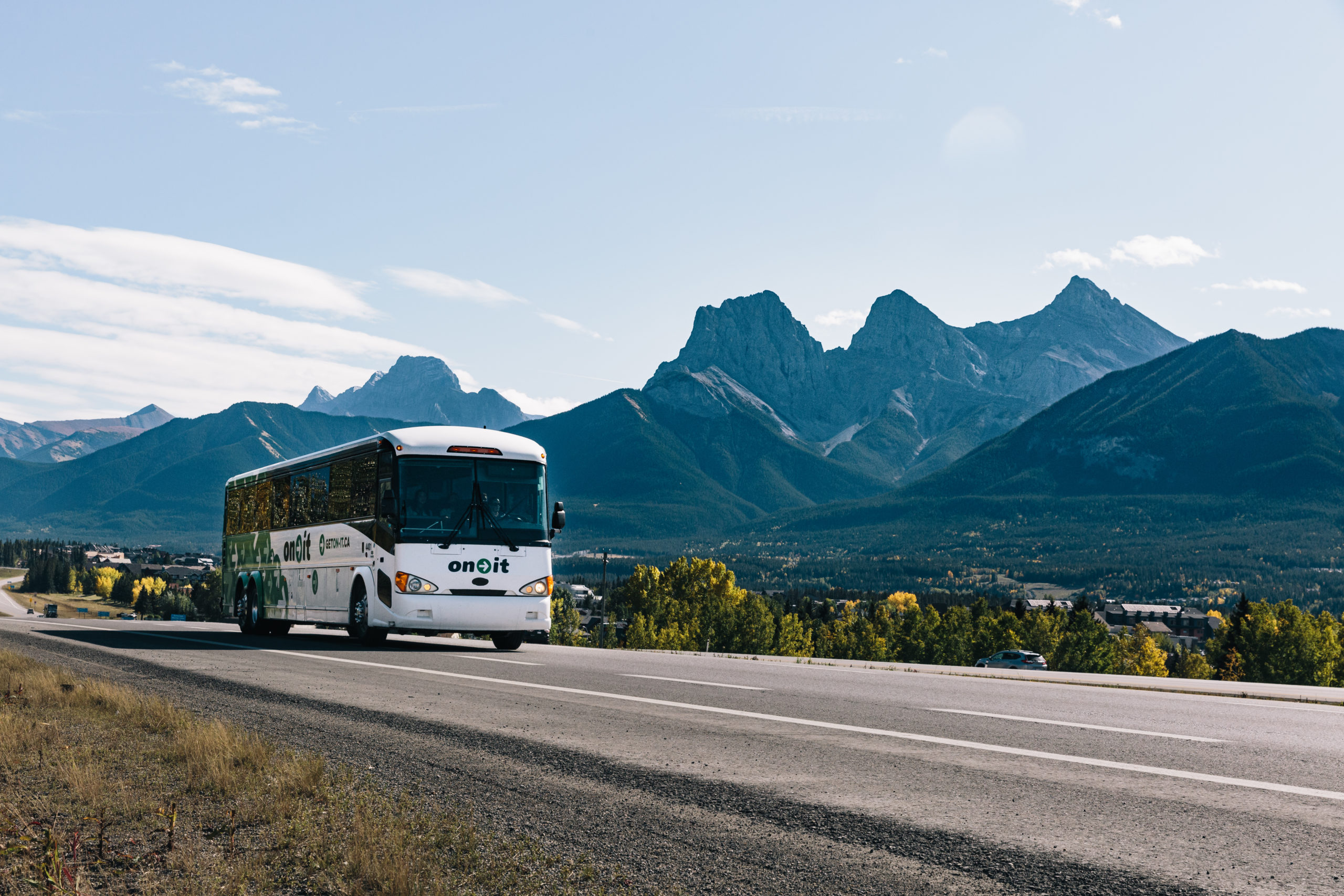 Face Masks
Please note that as per AHS recommendation the masking requirement onboard Commercial Transit vehicles has been removed effective June 15th, 2022. Users are able to continue wearing masks at their own discretion if they wish to do so.
COVID-19 SYMPTOMS
In order to reduce the spread of COVID-19, passengers on board On-It must self-monitor for symptoms of COVID-19. Passengers must not travel if they have a fever, cough, shortness of breath, runny nose, sore throat or loss of sense of taste or smell.
Service Days
On-It runs on Fridays, Saturdays, and Sundays during the Spring season and on Thursday, Friday, Saturday and Sunday from June 15th, 2023.
Additional holiday services for 2023 will be available on May 22nd, July 3rd, and August 7th, and September 4th.
Fares & Prices
5+ Years old – $10 One Way
Under 5 years old – $0 One Way

Children under the age of 5 years old that will travel on the lap of a person who is 15 years of age or older will not require tickets. However, if the child (under the age of 5) requires their own seat, the child must be registered for a free ticket to reserve a seat on the bus.
No ticket is required for infants not requiring a seat.
Schedules
On-It's Banff & Canmore 2023 service is a seasonal service running from May 19 – to September 17th.
Online Purchases
Tickets are sold online here. Online payment accepts Visa, MasterCard, Visa Debit, MasterCard Debit and AMEX (Canadian) Credit.
Tickets purchased online will be sent to the purchaser by email. E-tickets can be downloaded to a smartphone or printed.
Tickets purchased are for one-way travel only. Passengers must purchase a one-way ticket for EACH direction of the travel.
Do I have to print my ticket?
No. Tickets can be printed or shown to either the driver or customer service agent at the time of travel on a mobile device.
At Stop Ticket Sale
Tickets are sold at each On-It stop by either the driver or customer service representatives. Tickets can be purchased with Cash or a credit card. (Online payment accepts Visa, MasterCard, Visa Debit, MasterCard Debit.)
Tickets purchased are for one-way travel only. Passengers must purchase a one-way ticket for EACH direction of the travel.
Haven't received your tickets in your email?
If you purchased tickets and have not received them yet, please reach out to onitsupport@southland.ca
Exchanges
On-It offers free ticket exchanges up to the original departure time of the passenger purchased ticket. All exchanges must be required prior to the bus departure time in order to be honoured.
Passengers can request an exchange by using the exchange form, emailing our support team, or by calling the On-It Customer Service line.
Refunds
On-It does not offer refunds on any Banff & Canmore service tickets.
Luggage
On-It will accept one undercarriage luggage item as well as one personal item stored in the overhead storage bin.
Overhead Storage – one personal item per passenger, such as a laptop bag, purse, or small backpack. Maximum dimensions 16cm x 33 cm x 43 cm.
Undercarriage Storage – luggage items cannot exceed 62 inches (L+W+H). Items larger than this will not be accepted on the bus.
On-It does not store luggage for riders.
Can I bring a bike?
Yes, On-It does allow bikes onboard for a cost of $2.50 one way.
Bikes are loaded at the owner's risk in the under-bus luggage compartments. Moving blankets are available to wrap bikes.
Can I bring a pet?
Only service animals and small dogs are welcome on board for 2023. Small dogs must remain in their carrier for the entire journey and must be stowed on the floor or on the passengers lap.
Roam Transit
On-It tickets are valid for complimentary travel on Roam services for routes 1, 2, 4, & 6 only, on same-day travel.
Please present your On-It ticket (printed or electronic) to the Roam operator on the bus to be able to transfer over. If you purchase a ticket from either a driver or a customer service representative and choose not to use an email address, an On-It / Roam transfer ticket can be given to you as your valid Roam transfer.
Do you pick up from the airport?
We do not pick up from the airport at this time.
The closest stop is our Downtown Location
(606 5th Avenue SW).
The Mountains are
closer than you think.